Welcome!
I am a prophetic dreamer like the Biblical Joseph, and, like Joseph, I dream about things before they happen and then read about them in the news.

This dream, like several others, came true in miraculous timing; exactly one month after I had the dream, the virtually identical thing happens in real life.

God taught me to pray about these dreams and since then, I've seen many miracles! This is one of my favorites.
Had a dream the night of March 5/6, wrote it down when I woke up March 6.
I had a dream-vision last night that I was watching a grandmother and a mother & a baby who may have been handicapped. I think the baby was around a year old, not sure. The three of them are on the very edge of water, but up high. Reminded me of a canal with a typical fence consisting of two poles horizontally and two poles vertically but the one the baby was leaning against seemed kind of flimsy.
Anyway, the baby is leaning right up against this fence and it looks like an accident waiting to happen, and it is. The baby falls into the water. The grandmother jumps in and I start interceding like a lunatic at the top of my voice. And glory to GOD the grandmother jumps in and saves the baby. It seemed sort of miraculous to me that the baby was underwater long enough to drown but doesn't.
Please pray with me. God answers prayers for intercession.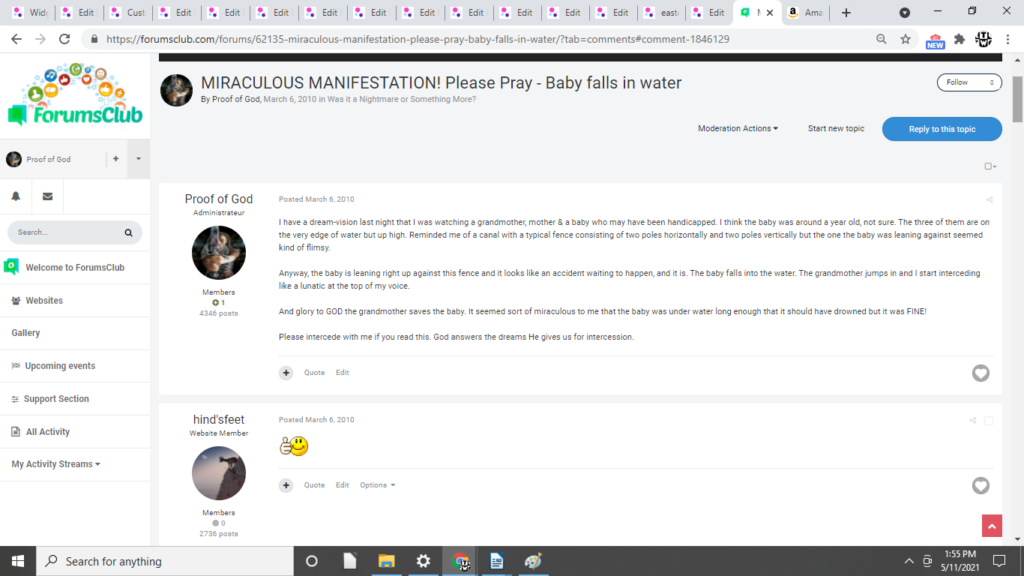 Like to this post: https://forumsclub.com/forums/62135-miraculous-manifestation-please-pray-baby-falls-in-water/?tab=comments#comment-1846129
---
April 5, 2010
Exactly one month to the day after I posted this dream, I was working my computer when I heard the t.v. reporting a miracle baby rescue, and I think, Didn't we JUST pray for that!!?
Then, the story details illustrate everything that I described in my post:
A pier from the sea port: The edge is high above the water (the news story describes that the baby and her father were 20 – 30 feet above the water.)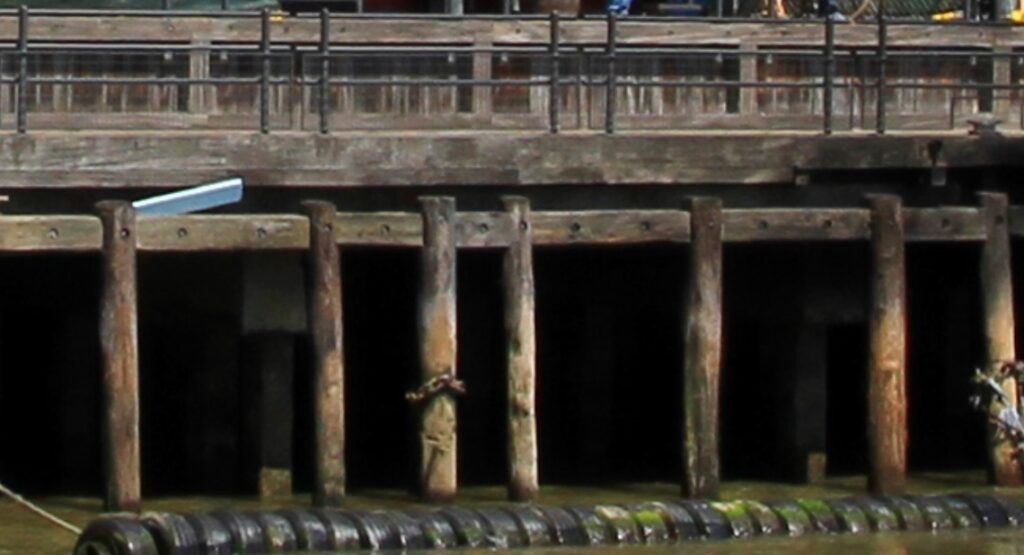 The rail is identical with two poles horizontal and two poles vertical.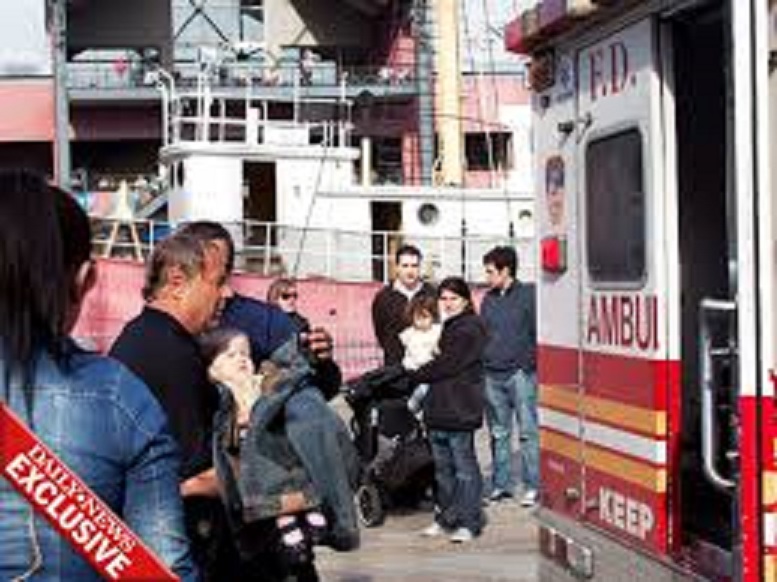 The picture included with the news story shows a mother and baby.
The grandmother that I saw is also a big part of this story, as you'll see below.
And it all happened exactly one month after I posted the dream and a request for prayer.
The Story
The New York Post reported that 'the heroic dad who jumped into the dark waters of the East River to rescue his 2-year-old daughter said today he got an early Easter "miracle" after he thought she was going to drown.'
The father, David Anderson, and his two-year-old daughter were on a ramp about 20 to 30 feet above the water when he turned his back for a moment and she fell into the water.
A mysterious Frenchman saw it happen and, removing his watch while running for the end of the pier, he dove into the water before the father knew what was happening. Anderson then dove into the river and joined them.
The 'heroic dad' said of the stranger, "It was a miracle, he just appears out of nowhere. It makes you wonder if there are angels on Earth."
On Easter, the family went to church and visited the cemetery where Bridget's grandmother, whom Bridget is named after is buried.
"I saw her grave, and just thought, 'Thank God there's only one Bridget here.'"
Indeed. Thank God! This story is absolutely amazing. There is no doubt that God knew this was going to happen and He made the way for a miracle to happen that day!
Lesson Learned From This Dream
I learned that posting the dream immediately is important. To see God's amazing timing, it's important to post our dreams right away. Dreams will become reality in such a remarkable fashion (like exactly a month or exactly two years to the day) that it will make it that much more miraculous when the dream comes true. Click here to read about amazing dates related to dreams.
NEXT:
Click here to read more miracle stories like this one.
Click here to read: Understanding The Symbolic Use Of People In Dreams
Accessed August 28, 2018, 'Dad who saved daughter from East River thankful for Easter 'miracle';(https://nypost.com/2010/04/05/dad-who-saved-daughter-from-east-river-thankful-for-easter-miracle/